We are a family run, community Taekwondo School and our main ethos and mantra is "progress" (Jinhaeng). We believe that progress is not achieved by luck or accident but by working on yourself daily and a little progress each day adds up to a big result! Anyone and everyone can progress to achieve their own physical, mental and emotional potential through Taekwondo, with the right coaching, support and training.
Our Story
I am Instructor Terry Statham & I have been involved in martial arts for 13 years. Firstly, as a Taekwondo parent, watching my two eldest sons develop. Then, for the past 9 years, growing through my own Taekwondo journey and achieving the rank of 3rd Dan Black belt in November 2018. For the last 7 years, I have had the honour of being a Taekwondo instructor to students of all ages and abilities, within another school. I am excited to have brought my experience into a community setting within my own school.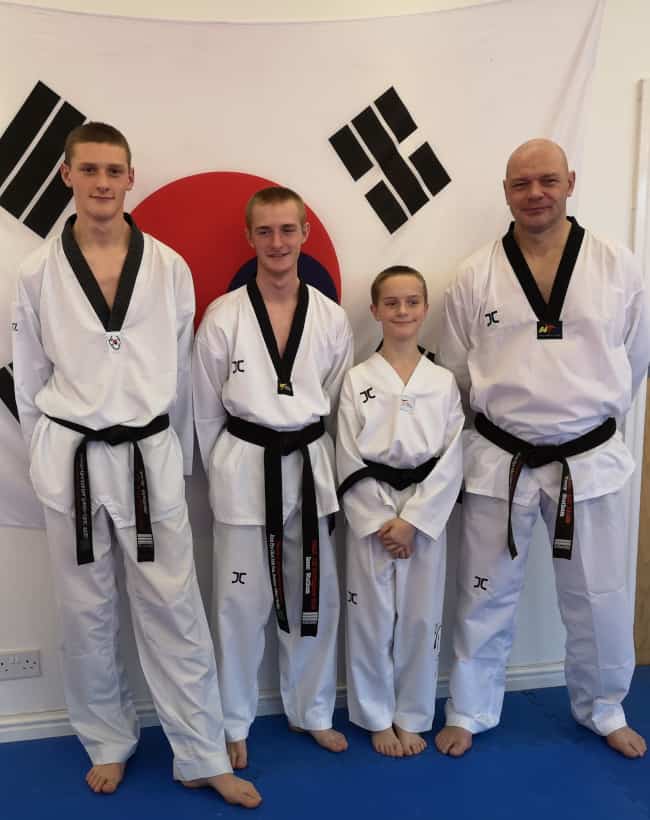 Jinhaeng Taekwondo
Jinhaeng Taekwondo are part of the World Taekwondo Association (W.T.A), who are affiliated to British Taekwondo (responsible for all aspects of WTF/Olympic style Taekwondo in the UK).
If you are interested in joining us at Jinhaeng Taekwondo or just want to find out more, please contact me in any one of these ways:
Check out our class timetable and pop in and observe any class in action
Facebook message
Email on hello@jinhaeng.club
Text me on 079000 86487
Staff
Our Team
Isaac has been practising Taekwondo since the age of 6 and is now a 3rd Dan Black belt.
Jacob has been practising Taekwondo since the age of 4 and is a 3rd Dan black belt.
Come along and try us out for free!
Free Trial Lesson